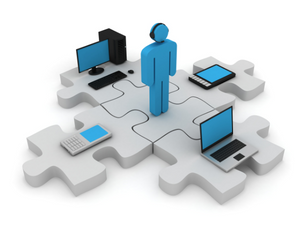 We recently posted an article, "Why Every Small Business Needs a Managed IT Service Provider" and the variety of services that they may provide. This list is certainly not comprehensive but, it's a start.  Why is it important for a small business to focus on cybersecurity? A recent Forbes article made this surprising comment: "Between January 2021 and December 2021, researchers at cloud security company Barracuda Networks analyzed millions of emails across thousands of companies. They found that, on average, an employee of a small business with less than 100 employees will experience 350% more social engineering attacks than an employee of a larger enterprise." How did they get this information? It is based on the statistics of small businesses that are already security focused and are using their products. How do you measure the many small businesses that have no visibility into their security?
Small Business Security Visibility and Risk
We know that small businesses are constantly at risk, and many have been compromised but they do not know.  Why can we say this so confidently?  We see a barrage of quarantined emails that are crafted as phishing and/or laden with malware and they are coming from small businesses local and afar. How do we respond? We attempt to call the business and make them aware of what was received in quarantine. Some will warn us excitedly not open the email because they were compromised; some are dealing with an active attack.  Guess what? They don't make the news, and most will never know of cyberattacks that have happened or are happening; some even close their doors silently. Once you have visibility, you begin to see the failed network intrusion and email login attempts. We small business owners are not insignificant!  Please don't think that just because we are small that threat actors and not interested as this makes you more vulnerable.
Cybersecurity Services
Laredo managed IT service providers can help small businesses gain visibility on their computers, mobile devices, internet traffic and cloud environments. One advantage is becoming aware of an incident that was contained because it becomes a nugget of wisdom to use when making certain business decisions. It is also that pat on the back for implementing a good decision. You also have evidence that the solution implemented is providing the return on the investment!
Do you need to outsource cybersecurity for your business? It really comes down to business risk based on the type of business, required compliance framework(s) and security controls, etc. What is required for your business?  Where is your time better spent?
If you have questions to help you make an informed decision, give us a call.